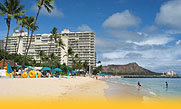 Classic Hawaiian Products
1860 Ala Moana Blvd #810
Honolulu, HI 96815
(808) 277-5323
Email Us

Hawaiian Art
Gift wrapping option is available at checkout Hawaiian art and Hawaiian crafts add a custom made in Hawaii flair to your Hawaiian home decor. It reflects the beauty of the tropics and is perfect for a Hawaiian themed home or office. Here you will find some of the nicest tropical painting and prints made in Hawaii. We also have rare and exotic items, such as koa woodcrafts and balsa wood surfboards, which are functional and yet collectible treasures. Add to your collection of Hawaiian art today.

---



These breathtaking Hawaiian tropical paintings were painted and signed by Shawn, a local artist who attended the prestigious Corcoran School of Art. These are some of the most beautiful paintings made in Hawaii.





Hand Painted Hawaiian Lamp Shades

Beautiful hand painted Hawaiian lamp shades.





Exotic and tropical Hawaiian koa woodcrafts by master craftsmen in Hawaii using extremely rare and breathtakingly beautiful koa wood.




© Copyright 2005-2010
Classic Hawaiian Products
All Rights Reserved
Lei Disigns copyright TWI, Honolulu. Aloha Hawaii Lei, Hibiscus Fern logo, and model's picture on lei tag are registered Trademarks of TWI, Honolulu.
Payment and Shipping...
We accept VISA, MasterCard, Discover and American Express credit/debit/ATM cards. Also, PayPal, Checks & Money Orders.
---
Orders to U.S. destinations: Orders inside the U.S. are shipped by USPS Priority Mail for only $7.95, no matter how large the order! Please allow 4 to 7 days to receive orders.
International orders to non-U.S. destinations: International orders will be shipped by International Priority Airmail for only $17.95, no matter how large the order. Please allow 7 to 14 days to receive orders (note: your customs department may cause delays).
---
Check out our photos section to see beautiful pictures taken on the scenic Island of Oahu in Hawaii. Bookmark us.
---
This site contains images and trade symbols protected by the Copyright and Trademark laws of the United States. Any and all unauthorized alteration, reproduction, public distribution and/or public display of the same will subject you to severe civil and/or criminal penalties as provided by law.