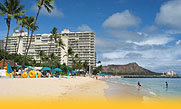 Classic Hawaiian Products
1860 Ala Moana Blvd #810
Honolulu, HI 96815
(808) 277-5323
Email Us

Aloha and thank you for visiting Classic Hawaiian Products. The photo galleries on our website are free for visitors to enjoy. Feel free to save the photos as a wallpaper background on your computer or for any other non-commercial use. If you're using Microsoft Internet Explorer, you can save a picture as your computer's background by right clicking on the picture and selecting 'Set as Background'. New galleries will be added regularly. Mahalo nui loa and please visit us again!
---
Click on a gallery below:


© Copyright 2005-2010
Classic Hawaiian Products
All Rights Reserved
Lei Disigns copyright TWI, Honolulu. Aloha Hawaii Lei, Hibiscus Fern logo, and model's picture on lei tag are registered Trademarks of TWI, Honolulu.
Payment and Shipping...
We accept VISA, MasterCard, Discover and American Express credit/debit/ATM cards. Also, PayPal, Checks & Money Orders.
---
Orders to U.S. destinations: Orders inside the U.S. are shipped by USPS Priority Mail for only $8, no matter how large the order! Please allow 4 to 7 days to receive orders.
International orders to non-U.S. destinations: International orders will be shipped by International Priority Airmail and rates are based on total weight starting at $24. You'll have a chance to see the shipping total before entering your payment information. Please allow 7 to 14 days to receive orders (note: your customs department may cause delays).
---
Check out our photos section to see beautiful pictures taken on the scenic Island of Oahu in Hawaii. Bookmark us.
---
This site contains images and trade symbols protected by the Copyright and Trademark laws of the United States. Any and all unauthorized alteration, reproduction, public distribution and/or public display of the same will subject you to severe civil and/or criminal penalties as provided by law.