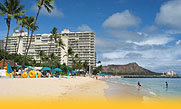 Classic Hawaiian Products
1860 Ala Moana Blvd #810
Honolulu, HI 96815
(808) 277-5323
Email Us

Hawaiian Jewelry
Gift wrapping option is available at checkout Made-in-Hawaii solid 14k gold Hawaiian jewelry makes the perfect gift for someone special. Hawaiian heirloom jewelry was originally designed for Hawaiian royalty and is one of the most popular jewelry designs in the world. We also have a complete line of Tahitian and South Seas black pearl jewelry in elegant Hawaiian designs. Shop here for the most beautiful Hawaiian bracelets, Hawaiian earrings, Hawaiian pendants, Hawaiian rings and Hawaiian necklaces at a fraction of the retail price. Our Hawaiian jewelry is made in Hawaii by the largest and oldest manufacturer of Hawaiian jewelry and is the highest quality designer jewelry available. On our site you won't find cheap imported jewelry that is not what it claims to be. You have our 100% unconditional money-back satisfaction guarantee with every purchase. If for any reason you aren't completely satisfied, return it within 10 days and receive an immediate refund less shipping cost. All of our 14k gold and black pearl jewelry comes with a factory lifetime guarantee against defective workmanship or materials. If anything requires repairs just send it back to us and we'll either have it repaired or replace it free of charge. The only possible charge for repairs would be to replace missing parts - for example, if you lose it.

---
| | | | |
| --- | --- | --- | --- |
| Solid 14k gold Hawaiian rings. Made in Hawaii. | Solid 14k gold Hawaiian bracelets. Made in Hawaii. | Solid 14k gold Hawaiian pendants. Made in Hawaii. | Solid 14k gold Hawaiian earrings. Made in Hawaii. |
| Solid 14k gold Hawaiian toe rings. Made in Hawaii. | Solid 14k gold Hawaiian necklaces. Made in Hawaii. | 14k Gold Black Pearl Rings. Made in Hawaii. | 14k Gold Black Pearl Pendants. Made in Hawaii. |
| 14k Gold Black Pearl Earrings. Made in Hawaii. | | | |



© Copyright 2005-2010
Classic Hawaiian Products
All Rights Reserved
Lei Disigns copyright TWI, Honolulu. Aloha Hawaii Lei, Hibiscus Fern logo, and model's picture on lei tag are registered Trademarks of TWI, Honolulu.
Payment and Shipping...
We accept VISA, MasterCard, Discover and American Express credit/debit/ATM cards. Also, PayPal, Checks & Money Orders.
---
Orders to U.S. destinations: Orders inside the U.S. are shipped by USPS Priority Mail for only $8, no matter how large the order! Please allow 4 to 7 days to receive orders.
International orders to non-U.S. destinations: International orders will be shipped by International Priority Airmail and rates are based on total weight starting at $24. You'll have a chance to see the shipping total before entering your payment information. Please allow 7 to 14 days to receive orders (note: your customs department may cause delays).
---
Check out our photos section to see beautiful pictures taken on the scenic Island of Oahu in Hawaii. Bookmark us.
---
This site contains images and trade symbols protected by the Copyright and Trademark laws of the United States. Any and all unauthorized alteration, reproduction, public distribution and/or public display of the same will subject you to severe civil and/or criminal penalties as provided by law.